This is an archived article and the information in the article may be outdated. Please look at the time stamp on the story to see when it was last updated.
AUSTIN, Texas — After the senseless stabbing of multiple people at the University of Texas earlier in the week, officials have identified one of the critically injured victims as a Cinco Ranch High School graduate.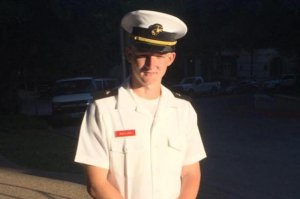 Stuart Bayliss, a Katy native, was attending UT as an engineer student and ROTC member when the attack happened. A GoFundMe page has been set up for Bayliss and gives details of his 5-hour surgery and night in intensive care.
Bayliss is one of three people injured during the incident that left one student dead.
Investigators said suspect Kendrex J. White, 21, "calmly" walked around campus armed with a "bowie-style" hunting knife before stabbing Bayliss and two others. White also stabbed a fourth victim— freshman Harrison Brown — who died at the scene, officials said.
The other injured students have since been released from the hospital, UT President Gregory L. Fenves said during a press conference Monday.
The first person attacked was one of several students gathered around a popular Austin food truck around 2 p.m. at the plaza outside Gregory Gym, according to the Austin Police Department.
Through the quick response of campus and city police officers, UT Police Chief David Carter said White was quickly taken into custody. The Austin police have filed murder charges against the suspect, authorities said.
"We're thankful that we have the support of our fellow police officers," Carter said.
In response to numerous rumors being spread across social media, Carter also confirmed that investigators have no evidence to support the attack was targeted at student in the school's Greek community. Carter said White had been forcibly committed to a mental institution in another city sometime ago and had been released for unknown reasons.
"This was not a conspiracy," Carter said. "This person was not a person who had a vendetta toward any particular group. This person is someone who suffers from mental illness."
He added, "We have no reason to believe he was targeting any fraternities or anyone other groups."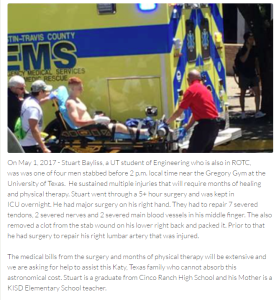 During the investigation, students flooded social media and local news outlets with witness testimonies concerning the event.
Rachel Pritchett, a freshman, was in line at the food truck when she heard someone screaming.
"I didn't really process what was happening until he grabbed this guy who was standing right next to me by the shoulder and stabbed him on the back," she told CNN affiliate KEYE.
"While I was running away, I saw this other guy that was kind of bloodied up sitting at a table slumped over. There was someone standing next to him yelling, 'get away!'" she said.
Students leaving their classes also walked upon a gruesome scene.
"Police were resuscitating a victim. Another student had lacerations to their head and was getting help from police," said student Ray Arredondo.
As the attack unfolded, three other students were attacked before police arrived.
"I looked over towards the Gregory Gym area and I just see somebody like passed out on the floor covered in blood," student Bryan Ramirez told CNN affiliate KXAN.
Texas Governor Greg Abbott released the following statement:
"Our prayers go out to all those affected by today's tragic events. I have been briefed by the Department of Public Safety on both incidents, and have also talked to University of Texas at Austin President Greg Fenves. As the investigations into these heinous crimes continue, I have offered all available state resources to both Dallas and the University of Texas to assist in any effort."
Update for @UTAustin campus. Classes cancelled today after violent attack. pic.twitter.com/wlHUkBsu56

— Maurie McInnis (@Maurie_McInnis) May 1, 2017
//platform.twitter.com/widgets.js
Stabbing here on UT campus. Please be safe yall. pic.twitter.com/zZG7hz6MIm

— Hinokami (@tarzan_dan) May 1, 2017
https://twitter.com/MrAndress_DFW/status/859121345388580864
UPDATE2 2101 Speedway-PT count may be 4. 1 poss DOS. Crews confirm. all pts accounted for and treating pts. Trauma alert declared for 1. MTF

— ATCEMS (@ATCEMS) May 1, 2017