This is an archived article and the information in the article may be outdated. Please look at the time stamp on the story to see when it was last updated.
HOUSTON — Joseph Pappas, the man accused of fatally shooting renowned cardiologist Dr. Mark Hausknecht in the Texas Medical Center, committed suicide Friday while being pursued by officers in a southwest Houston neighborhood.
Pappas, 65, had evaded the Houston Police Department for nearly two weeks before being identified Wednesday as the primary suspect in the case. Investigators believe the suspect had been camping out in the woods near Bray's Bayou. Pappas is a trained marksman with about 30 years of experience as a Harris County constable, according records.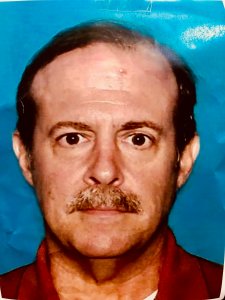 On Friday, an individual reported seeing a suspicious person about 9:25 a.m near the Jewish Community Center. Moments later, a Houston Parks Department worker confirmed it was Pappas after confronting the suspect— mistaking him as a possible graffiti vandal— and then finding his discarded wallet. The suspect was still using a bike as his main mode of transportation.
Papas was armed with a revolver and wearing a bulletproof vest when two officers eventually cornered him in an area near Bob White and Ariel streets in the Robindale subdivision, HPD Chief Art Acevedo said.
"The suspect said something about suicide— or something to that matter — and the officer said 'let me see your hands," Acevedo said. "He was not complying with the officers' commands."
Police said Pappas refused to show his right hand up until he pointing the gun to his head and then firing once. Houston Fire Department paramedics pronounced the suspect dead at the scene.
Pappas' mother was a patient of Hausknecht who died during surgery about 20 years ago, according to investigators. Detectives said it's possible the suspect acted out of revenge.
Hausknecht, 65, was gunned down while riding his bike to work at Houston Methodist Hospital. Investigators said the alleged gunman rode closely behind the victim before firing at least three times, hitting Hausknecht, and then riding off into a nearby residential area. The victim was rushed to Ben Taub General Hospital with fatal gunshot wounds to the head, torso and upper left arm.
Although the manhunt came to an end Friday, the search had intensified the night before.
Someone reported seeing a man riding a bike near Pappas' residence Thursday night, police said. SWAT officers entered the home after an investigator reported seeing a light was on inside and a back gate was open. A search of the property revealed that Pappas wasn't there.
Acevedo said detectives found an extensive intelligence file about Hausknecht and a list including other names inside the suspect's home.
"There was information on his residence, information on his work, information on his car," Acevedo said.
Evidence suggests Pappas had also be selling his possessions. In July, the suspect deeded his Westbury home over to a woman in Ohio. Jeannette Spencer has reportedly known Pappas for about 25 years. She claims the suspect called and told her he had a terminal illness, which why he was giving away his home.
"I saw him about three months ago," another friend Marc Johnson said. "He was depressed, and he was clearly troubled. I don't know what was going on. He didn't share anything with me, but it was no the Joe I know."
ALSO READ: Neighbors describe Joseph Pappas, cyclist accused of fatally shooting cardiologist in Texas Med Center
Johnson, who is a Texas concealed handgun license instructor, had known the suspect for 20 years.
"Because of some of his additional training, I think he would have put the police officers— the average police officer— in a severe tactical disadvantage," Johnson added.
Statement from Houston Parks Board #HouNews pic.twitter.com/ArfK8zrEuw

— Houston Parks Board (@houparksboard) August 3, 2018
Hausknecht was a specialist at the DeBakey Heart & Vascular Center. He was a longtime Houston Methodist-affiliated physician with nearly four decades of medical experience, hospital officials said. News of his death made national headlines and prompted heartfelt responses from the medical community, other local hospitals, Mayor Sylvester Turner and former U.S. President George H.W. Bush, the doctor's former patient.
The mayor released the following statement, commending HPD investigators for their efforts:
"The potential threat to the City from an accused murderer considered armed and dangerous is now over, closing another chapter of this horrific tragedy. And once again it involved heroic acts by frontline officers of the Houston Police Department, which has my gratitude for how it has handled this case and so many others.

"But they could not have succeeded in this case without information and support from members of the public. I encourage everyone who has information about pending and future cases to come forward and help our city save lives."