This is an archived article and the information in the article may be outdated. Please look at the time stamp on the story to see when it was last updated.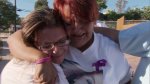 16-Year old Hannah Anderson's family, and everyone else around the nation who's been watching, can breathe a big sigh of relief. Hannah is safe and her alleged captor, James Dimaggio, is no longer a threat.
The San Diego California Sheriff's Dept says he was shot and killed by an FBI agent on the rescue mission. While Hannah was held in an Idaho hospital under evaluation her friends and family spent Sunday morning anxiously awaiting her return. "Bring Hannah Home" was washed off car windows, replaced with "Welcome Home" wishes for a girl who has been through an ordeal most of us couldn't imagine. It'll be a bitter sweet return for Hannah however.
Upon her return the Anderson family says they will have to make arrangements to bury Hannah's mother and 8-year old brother who were both killed by Dimaggio. No doubt it will be a long road to recovery for 16-year old Hannah Anderson, but if love really is all you need the brave young lady is going to be just fine. Welcome home Hannah!