This is an archived article and the information in the article may be outdated. Please look at the time stamp on the story to see when it was last updated.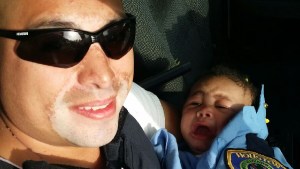 HOUSTON, TX – One Houston mom started the week with an amber alert for her 8-month-old baby girl. At least this story has a happy ending.
Cops say the mother of Genesis Haley popped into a gas station while her little one was sleeping late Sunday night. She was only inside for seconds.
"She left the car actually running," says Officer Shaun Sylvester with Houston Police.
Cops were able to find the car pretty quickly, but the babe wasn't discovered until a jogger passed by a field at 11300 Ella Boulevard in north Houston and heard some faint whimpers.
"There were no visible injuries on the baby," says Officer Xabier Avila with Houston Police.
Now the search is on for the suspect.
"She [the mom] describes him as a young black male with a slight slant in his hairdo, and he has a small white or blondish patch on one side so it's a pretty distinct picture of him," says Officer Sylvester.
Other than a few ant bites, the little girl is okay.
This slideshow requires JavaScript.