This is an archived article and the information in the article may be outdated. Please look at the time stamp on the story to see when it was last updated.
HOUSTON, TX -Ever want to go back to a time of glitz, glamor, and good old-fashioned fun? Well, that's what you'll find inside of one of Houston's oldest establishments. What was formerly known as the Isis theatre, Houston's first silent movie theatre, is now home to Prohibition Supperclub & Bar.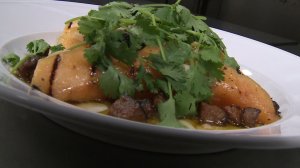 "At Prohibition, we have two concepts under one roof. The first concept is the restaurant. It's a 40-seat restaurant with a raw bar. We are Houston's only raw bar. The second concept is the theater," explains culinary director Ben McPherson.
The theatre is no longer silent. Prohibition puts on bustling burlesque shows featuring The Moonlights Dolls, every Thursday, Friday, and Saturday, all served with a three-course meal.
And chew on this, Sundays will now feature an interactive dinner murder-mystery show., with a historical Houston twist.
However, if you'd rather just focus on the food, the restaurant offers an entirely unique experience separate from the shows, and Chef Ben has made his menu fancy yet familiar.
"We keep everything very easily approachable, with a little neighborhood feel, but with a little chef touch," says McPherson.
Prohibition has family favorites, intertwined with decadent dishes like the grilled cantaloupe with andouille vinaigrette. Another thing prohibition does well is their oysters, raw, or cooked and chilled, and filled with flavor.
Those are just some of the dishes that have made these last nine months successful for this one-of-a-kind concept, and as Prohibition approaches its first anniversary, the staff is proudly pressing forward.
"We've figured out how far we can push the limit, and we're having a lot of fun being an ambitious project," says McPherson.
So, if you're looking for a tasty meal, and some lively entertainment to pair with it, Prohibition is your place for a gatsby-esque good time.