This is an archived article and the information in the article may be outdated. Please look at the time stamp on the story to see when it was last updated.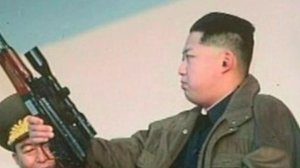 PYONGYANG, NORTH KOREA – Kim Jong Un is using North Korea's state-run media to warn tourists in neighboring South Korea, "We urge all foreign nationals at institutes and companies, including tourists, to take evacuation measures out of Seoul and South Korea for their own safety."
Someone needs to put Lil Kim down for a nap because he's clearly getting cranky and we're worn out with his antics!
Fortunately, the British Embassy in South Korea says it doesn't see an immediate threat for its citizens living right next door to crazy-country. The tiny island of Japan isn't minimizing the little man's big-threats.
The Japanese government deployed three missile-defense systems around Tokyo, just in case North Korea decides it no longer wants to exist and shoots off a nuke.
Hey, if Lil Kim aims his missile anything like he aims a gun, we'll probably be alright.