This is an archived article and the information in the article may be outdated. Please look at the time stamp on the story to see when it was last updated.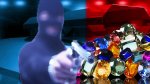 Police in Cannes, France are investigating how a man armed with a gun took $53 million worth of jewels from a jewelry exhibit at the Carlton Hotel.
Witnesses report that the gunman loaded up a briefcase and evaded security before making his escape.
It could be one of the biggest jewel heists in the history of the hotel but it's just the latest theft in Cannes.
During the annual film festival there were reports of at least two robberies involving more than $3 million worth of jewelry.