This is an archived article and the information in the article may be outdated. Please look at the time stamp on the story to see when it was last updated.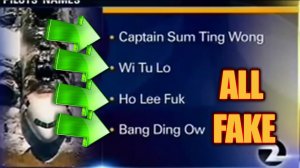 SAN FRANCISCO, CA – You would think that a week after a deadly crash, an airline would be completely focused on safety, and fixing what went wrong. But Asiana Airlines seems a little distracted.
It all goes back to KTVU in Oakland reading a fake list of pilots' names after the San Francisco crash. Names like Captain Sum Ting Wong, and others that were inaccurate and offensive.
Both KTVU and the National Transportation Safety Board have apologized.  The error was reportedly traced back to an NTSB intern mistakenly confirming the names. But still, Asiana is suing for the damages to its reputation.