This is an archived article and the information in the article may be outdated. Please look at the time stamp on the story to see when it was last updated.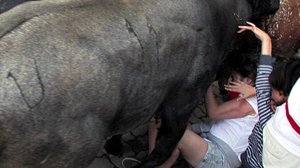 PAMPLONA, SPAIN – It's all over but the pain in Pamplona, and that's no bull.
Eight Americans were among the 48 bull runners who ended up in the hospital during the annual festival.
On Friday, one of the bulls tossed a guy to the ground and went after him big time. It took several people pushing, prodding, and pulling the bull's tail to get him away from the unlucky runner.
A 23-year-old Australian woman became the fourth female to be gored in the history of the running. Authorities say she went down after a bull gored her in the back at the entrance of the bull ring on the last day of the festival.
The bull's horn apparently punctured her lung.
Twenty-three people ended up gored, crushed, and otherwise mangled the previous day, most at the bull ring entrance.
Hey, guys! Why don't y'all come to Houston and run with our bulls.
It's a lot safer, and a whole lot prettier.