This is an archived article and the information in the article may be outdated. Please look at the time stamp on the story to see when it was last updated.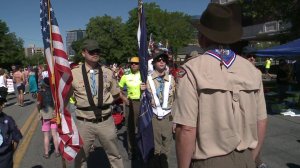 SALT LAKE CITY, UT – A gay pride parade in Salt Lake City became an opportunity to show young Boy Scouts that it is okay to disobey.
The Boy Scouts of America last month opened its arms to openly gay scouts, but told Utah scout leaders and members not to wear their uniforms if they marched in this past weekend's annual parade.
That's because Scout rules say you cannot support political or social issues while in uniform.
But that did not stop about a dozen scouts. And despite the warnings, it appears that none of them will be kicked out.
The Fourth of July parade should be interesting. Wonder if the scouts consider patriotism a social or political issue?