This is an archived article and the information in the article may be outdated. Please look at the time stamp on the story to see when it was last updated.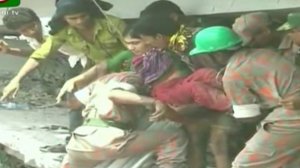 DHAKA, BANGLADESH – It's one thing when a factory shuts down, but it's a whole other thing when a factory falls down. That's what happened in Bangladesh.
All that's left is rubble and chaos after an eight-story building came tumbling down. The building housed several garment factories and a shopping mall, so it's no surprise to report that hundreds of people were hurt. Dozens were also killed, and authorities expect those numbers to rise as they go through the rubble.
A cause for the collapse is still under investigation.