This is an archived article and the information in the article may be outdated. Please look at the time stamp on the story to see when it was last updated.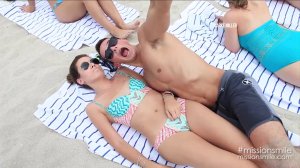 SOUTH BEACH, FL – Vlogger boyfriends, Mark E. Miller and Ethan Hethcote, teamed up with Mission Smile in this Guinness World Record attempt to set the record for most selfies taken in an hour.
They took to South Beach in Miami to snap away. An hour later they had set the record with 355 selfies.
But their ultimate goal was not to break the record but spread positivity.
After all, smiles are contagious.