This is an archived article and the information in the article may be outdated. Please look at the time stamp on the story to see when it was last updated.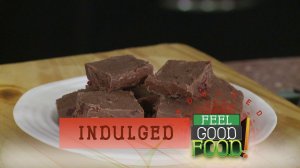 This decadent fudge is a fabulous treat, especially during the holidays! The peanut butter and cranberries give it a little extra intrigue and oomph.  It also makes for a very luxurious (and easy!) homemade gift.
Chocolate Peanut Butter Fudge – Feel Indulged
12 oz. semi-sweet chocolate chips
½ cup sweetened condensed milk
1/3 cup smooth all-natural peanut butter
¾ cup dried cranberries
2 tbsp water
Place all the ingredients in a microwave-safe bowl. Microwave for 30 seconds, and then remove and stir. Heat for another 30 seconds, and stir again.
Once the mixture is smooth (it may require 1 or 2 more increments), transfer the fudge to an 8×8 baking pan and smooth it out. Refrigerate for at least 30 minutes.
Note: You can alternatively prepare the fudge on the stove or using a double boiler.  Just be sure to stir continuously.