This is an archived article and the information in the article may be outdated. Please look at the time stamp on the story to see when it was last updated.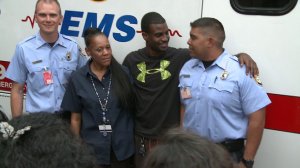 HOUSTON, TX – University of Houston cornerback, D.J. Hayden, almost lost a lot more than a shot in the NFL.
Last November during practice, Hayden suffered a tear in the main vein that carries blood from the lower half of the body to the heart. This is an injury never seen before on a football field and one that only a small percentage live to tell about.
D.J. met with the Houston Fire Department members that helped save his life last November.
His mother, Tori Hayden, also wanted to personally thank them.
Hayden is considered a top cornerback and likely a first round pick in Thursday's NFL draft.
Way to go D.J.!