This is an archived article and the information in the article may be outdated. Please look at the time stamp on the story to see when it was last updated.
HOUSTON - When you think southern food, greasy goodness often comes to mind, but picture a menu with all the down-home fixings, with a farm-to-table twist. That's what's cooking at Dish Society.
"We do traditional southern food, and then we put our own little spin on it. So, kind of modern takes on traditional favorites with a southern influence," said Dish Society founder Aaron Lyons.
The southern-inspired menu, though, is at the mercy of the merchandise, because being farm-to-table means Dish Society thrives on primarily local ingredients. Lyons says about 70-percent of their dishes are derived from products grown in Houston, or just a short drive away.
The combination of tasty local eats is something Lyons thought Houston was missing, which is how this all came to be.
"I like to eat healthy. I like to know where my food is coming from, in a casual environment, and there wasn't too many things out there like it, so I kind of decided to just create it myself," explained Lyons.
Dish Society was actually Lyons' first-ever experience in the restaurant business, and so far, it's been a successful venture. The Tanglewood location is in its second year, and the Katy location is going on four months now. The popularity of the place is growing much in part to the farm fresh fare, and we're not talking salad.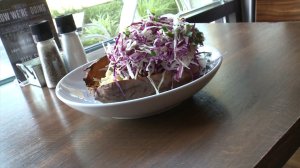 Lyons says the restaurant's most raved about dishes are items like their shrimp and grits, or the ever-popular brisket stuffed sweet potato, that Lyons describes as football-sized.
It's food like that, that keeps folks flocking back to find out how it feels to eat local and be social at Dish Society.