This is an archived article and the information in the article may be outdated. Please look at the time stamp on the story to see when it was last updated.
ALBERTA, CANADA - It happens to all of us: you get laid up with a cold and there's no way you're going to work. Most bosses understand when you call in, but not Pizza Hut Canada, according to one Reddit user. An Alberta Pizza Hut employee claims his boss made him get a doctor's note, which he did. It probably wasn't what the company expected, though.
In the note, posted online by the employee's friend, the doctor lashes out at the pizza chain. He writes:
"[Name redacted] has had, by their own report, a cold today and sensibly stayed home from work rather than spreading this to his colleagues/customers. I have no test for the common cold and therefore believe him/her, however you feel his time and mine should be wasted by making him sit in the walk in clinic for hours and me spending time writing a sick note that I could be spending on people who genuinely need my attention. Please reconsider your policy on this - there are surely better ways of wasting your tax dollars."
We dug up a 2011 Pizza Hut employment manual, which does say that employees "may be required to furnish a doctor's statement to verify illness." One can only assume that policy is in place to prevent problem employees from calling in all the time.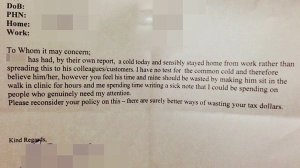 There's no word on what kind of reception that scathing note got from the employee's boss, but staying home makes sense if you're peddling pizza.