This is an archived article and the information in the article may be outdated. Please look at the time stamp on the story to see when it was last updated.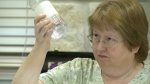 SPRING, TX – Residents in Spring are looking for answers. They`re worried about their water system.
The Dove Meadows Homeowners Association held a meeting with residents. They`re concerned about ExxonMobil, saying the company is dumping dangerous wastewater in their neighborhood.
Residents say they`ve seen it and asked questions, but got little answers.
'I asked the gentlemen in the truck, `What are you dumping?` and he said, `I don`t know,`' said Michael Jones, Dove Meadows HOA president.
That has them worried.
ExxonMobil, along with the Meadowhill Regional Municipal Utility District released a statement saying the water isn`t going anywhere unsafe, and that it`s simply going into the district`s wastewater system for treatment.
However, residents are still looking into it and hope to get some more concrete answers soon.