This is an archived article and the information in the article may be outdated. Please look at the time stamp on the story to see when it was last updated.
HOUSTON — A documented Tango Blast gang member is on the run from state and local authorities after allegedly going on a violent crime spree in Houston earlier this month, the Texas Department of Public Safety announced Tuesday.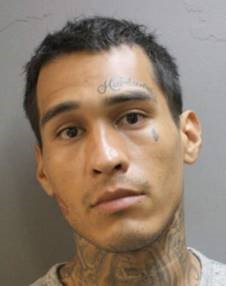 Rolando Tomas Mendez, 27, is wanted in connection to multiple aggravated robberies and shootings. He was recently added to the Texas 10 Most Wanted Fugitives list.
A cash reward of up to $7,500 is being offered by Texas Crime Stoppers for information leading to his capture, officials said. In addition, Crime Stoppers of Houston is also offering a reward of up to $5,000.
Mendez is 5 feet 9 inches tall and weighs approximately 170 pounds. He has a tattoo of red lips on his right cheek, "Hardaway" above his left eyebrow, an oil derrick on the right side of his neck, and numerous other tattoos.
Mendez may also be known by the nickname of "Lando."
To be eligible for the cash rewards, tipsters MUST provide information to authorities using one of the three following methods:
Call the Crime Stoppers hotline at 1-800-252-TIPS (8477).
Submit a web tip through the DPS website by selecting the fugitive you have information about, and then clicking on the link under their picture.
Submit a Facebook tip by clicking the "SUBMIT A TIP" link (under the "About" section).
All tips are anonymous – regardless of how they are submitted – and tipsters will be provided a tip number instead of using a name.