This is an archived article and the information in the article may be outdated. Please look at the time stamp on the story to see when it was last updated.
SAN BERNARDINO, CA – Federal investigators have finally said what a lot of people already thought, that this week's killing of 14 people in San Bernardino was an act of terror.
"We are now investigating these horrific acts as an act of terrorism," announced David Bowdich, the FBI's assistant director in charge of the Los Angeles office.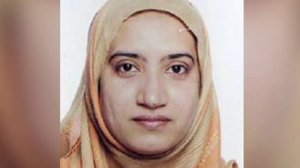 Investigators also say Tashfeen Malik, the female shooter, was on Facebook during the attack, posting a pledge of allegiance to ISIS leader Abu Bakr al "Big Daddy" Baghdadi.
They say she posted under a different name, and that the post is no longer online.
Here's what investigators know about her:
She was 27 years old, born in Pakistan, came to the U-S on a fiancee visa in 2014 so she could marry the other shooter, Syed Farook. They were married for two years, and had a six-month-old girl they gave to a grandmother before they attacked Farook's co-workers.
And one of the more bizarre twists to this story came when their landlord opened their house to members of the media and to just about anyone else, it seems.
He said the police cleared the building Thursday night and told him it was okay to let people inside.
And reporters don't need to be asked twice.
Once inside, they found papers, Social Security numbers, and photo strips for Malik, just the right size for a passport.
They also found baby toys and family photos, a reminder that the victims extend beyond the inland regional center.
Authorities also released names and photographs of most of those who died.
Nicholas Thalasinos was one of them. Reports say he and Farook got into an argument two weeks ago over whether Islam was a religion of peace.
Twenty-seven year old Yvette Velsaco was another victim, described by her family as intelligent, motivated, and beautiful.
Salihin Kandocker's wife was slightly injured as she and others hid in a bathroom during the shooting.  "So it is like a miracle.  And two bullets came above her head and hit the wall.  It's just a miracle the way she survived."
It may have been a miracle that anyone survived, considering the fire power and hate these two people brought to the party.