This is an archived article and the information in the article may be outdated. Please look at the time stamp on the story to see when it was last updated.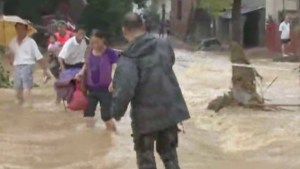 LAIBIN, CHINA – A rainy weekend might sound like a blessing to all of us, but hundreds of thousands of people in China are wishing they could catch a break from the rainy-season.
Upwards of 300,000 people were evacuated from China's Fujian province as Typhoon Soulik arrived at the coast with winds reaching 73 miles an hour. That's not the only thing about China's weather that blows right now.
The flooding is growing more and more deadly thanks to the typhoon's arrival and landslides have already destroyed thousands of homes. The downpours are also responsible for the death of some 200-people and the rain isn't expected to let up.
At least 8 more were killed in the southern part of the country when a dam burst sending water right down the side of a mountain and straight into a popular tourist area.
So, more than 5,000 Chinese soldiers have been deployed to some of the hardest hit areas to help with rescue efforts.