This is an archived article and the information in the article may be outdated. Please look at the time stamp on the story to see when it was last updated.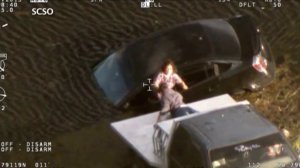 SANFORD, FL – A Florida woman's car malfunctions sending her straight into a retention pond.
Cynthia Garza's called a 911 operator as her car was quickly sinking.
But before crews could arrive some good Samaritans had spotted Cynthia and dove to the rescue.
A sheriff's helicopter overhead captured them fishing her out.
Just before Garza's car sank all the way into the water, Brad Rupert was able to back up his flatbed truck, while others helped pull Garza to safety.
Moments later the car was completely submerged.
Garza says she was on her way to get her car checked out by a mechanic, and says the steering wheel locked up a causing her to lose control of the car.