This is an archived article and the information in the article may be outdated. Please look at the time stamp on the story to see when it was last updated.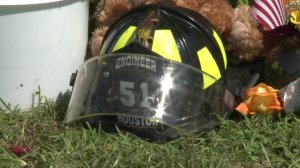 HOUSTON, TX – The Houston Fire Department and the Houston community alike continue to mourn the 4 firefighters who lost their lives in Friday's deadly hotel blaze.
Family members are hardest hit.
Maria Elena Morales, the Aunt of fallen firefighter Robert Bebee, said, "Everyone is hurting, grieving right now for his loss, for our loss and trying to hold on."
The show of support from Houstonians seems to make a difference.
"My nephew was a great person, good sense of humor, just makes me happy that people care about these firefighters."
Captain Ruy Lozano with the Houston fire Department commented, "It's a solemn time where we appreciate the overwhelming support from the citizens of Houston, the country as a whole, and we just ask that you keep thoughts and prayers with the family."
3 firefighters  remain hospitalized.
"One is still in extremely critical condition, 1 of the 2 is awaiting discharge today, and the other is in very good spirits, wanting to be discharged but must stay in the hospital for some observation."
At the scene of the fire, investigators are combing through debris to figure out what caused Houston's deadliest fire.
"We have Houston Arson Bureau heading up the investigation. We have everyone from Texas Rangers, ATF, Texas Fire Marshal's Office and Houston Homicide. Although we do not believe this was a crime, we are treating it like a crime scene in efforts to maintain as sterile of an investigative environment as possible."
A public memorial service will be held for the firefighters who sacrificed their lives on Wednesday, at 10am at Reliant Stadium.