This is an archived article and the information in the article may be outdated. Please look at the time stamp on the story to see when it was last updated.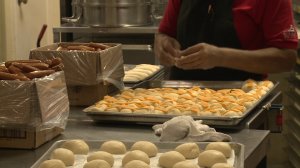 HOUSTON, TX – The Houston Rockets are hungry for another championship, and Houstonians are just plain hungry. So, The Kolache Factory concocted a recipe for success.
At the beginning of July, the kings-of-kolache-making offered Dwight Howard free kolaches for life if he signed with the Rockets. Since the nearly $100 million contract the Rockets were offering wasn't quite enough, they figured the kolaches would help sweeten the deal. The offer worked, because Dwight Howard is now a Rocket.
So, after a long weekend of Q&A's and city-wide pep-talks, the countdown finally ended and free kolache day was upon us. Many Houstonians jumped on the free-breakfast-bandwagon that The Kolache Factory had to double up on production. Making 400 sausage and cheese kolaches instead of the usual 200.
So, let's just hope while the kolache-kings worked hard to hand out free weiners, Dwight Howard will work hard to make the Rockets season a winner.