This is an archived article and the information in the article may be outdated. Please look at the time stamp on the story to see when it was last updated.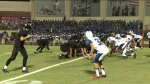 Daniel Jellins is a 6′-2″ 290-LB. senior lineman for the Saint John's Mavericks, but there's more to Jellins than just battling in the trenches to make him our Class Act of the Week.
St. John's head football coach Steve Gleaves says, "He does well in school and so he's looking at some good schools. One day like he says, he might be president, who knows?"
Jellins says, "My favorite classes are history. I'm a very big political science guy. I love sort of reading the latest news. I think for me, I'm starting to look at Princeton , Yale, and the really hard and tough schools to get into."
Jellins has an impressive resume to show those college recruiters. He is an Eagle Scout, a member of student council, and he's played tennis and wrestled for his school. Jellins did a summer internship with Congresswoman Sheila Jackson Lee where he helped take part in an immigation hearing.
"It was really cool to see how much energy and effort it takes to put these things together."
Energy is what Jellins has plenty of as he plays on both sides of the line and emerging as one of the team's leaders.
Gleaves says, "He's not your rah, rah, rah type guy but he's a leader by just the way he handles himself, the way he performs out there on the field."
You could say Jellins is all business out there just like his favorite president. This senior has immersed himself in history by reading some 70 biogrpahies on U.S. presidents.
Abe Linncoln is not Jellin's favorite president.
"It would be the 11th president James K. Polk because I would like to talk about his character. That's what struck me the most. When he came into office he talked about how he wanted get four things done and then he was not going to run again and he really stuck to that and got those four things done."
Kind of makes you see why Jellins likes to work hard on both sides of the line as he strives to make a difference one day in politics.
Do you know of a Class Act at your school, then let us know about it by sending us a nomination to classacts@newsfixnow.com.