This is an archived article and the information in the article may be outdated. Please look at the time stamp on the story to see when it was last updated.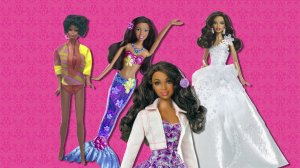 HARLEM, NY – "I'm a Barbie girl!" says Georgia Braithwaite of Harlem. Fittingly, for her fifth birthday she wanted a Barbie party, complete with plates, cups, napkins and maybe a tablecloth and straws.
As it turns out, Mattel only makes the party supplies in one color: white. So Georgia's mom, Karen, has started a petition on change.org to request Mattel endorse party supplies featuring 'Barbies of color' just like they do with their dolls.
It looks like a lot of you want diverse party supplies as the signatures are pouring in.
More than 1600 in under one hour.
It may sound like a racial issue, but it really isn't. If anything it's a missed business opportunity. Now that Mattel knows there's a demand for this item, they'll decide if they can make money off of it.
If so, the world will soon have access to party supplies featuring Barbies of color. If not, you're stuck partying with the white chick.