This is an archived article and the information in the article may be outdated. Please look at the time stamp on the story to see when it was last updated.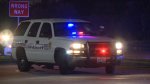 A possible kidnapping is what caused Harris County deputies to track down a guy off  Spring Cypress early Sunday. Turns out it was just a guy who assaulted his girlfriend, but when deputies showed up, the guy grabbed the girl and took off. Deputies chased him onto highway 249 where he reached speeds of up to 110 miles per hour.
He finally pulled over and was arrested on a slew of charges, including felony assault. After a deputy who was chasing after him was hit from behind and crashed. All because one guy didn't want to pull over. Guess he'll have a lot of time now to think about his actions.