This is an archived article and the information in the article may be outdated. Please look at the time stamp on the story to see when it was last updated.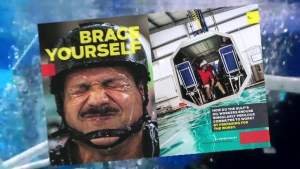 HOUSTON, TX – Working on an oil rig is a tough gig. The pay's pretty great and amenities are usually top notch, but the death rate for gas and oil workers is seven times higher than the average worker in the U.S., according to the Centers for Disease Control and Prevention. And it's not chemicals, fires or falling equipment doing them in. It's death by helicopter!
Since 2000, 159 offshore workers have died in chopper crashes. Most of those have been due to drowning. But one company, Falck Safety Services, is working to change all that.
Writer Peter Holley went through the underwater training  he calls "quite terrifying" and shares his experience play-by-play in this month's issue of Houstonia.