This is an archived article and the information in the article may be outdated. Please look at the time stamp on the story to see when it was last updated.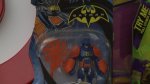 HOUSTON, TX – Hey, Santa: are you running out of ideas?  Ask the experts!  For the forth consecutive year, fifth-grade students at Longfellow Elementary School held a very serious press conference to update parents on the the hottest toys for this holiday season.
For more than a month, the students worked in teams to survey classmates in the playgrounds, hallways and the cafeteria.  In one of the surveys, "money" came in first place.   Who doesn't like money, right?  But don't get disappointed parents: kids wouldn't mind if you live an action figure or doll underneath the tree as well.
Anyway, the whole point of this survey -other than learning how the U.S. Bureau of Labor Statistics works… just kidding- was to give parents tips on what to buy without having to spend the big bucks.
Overall, "Password Journal" was the most popular toy among girls; while "Iron Man" was the top toy for boys.   Yes, Iron Man… We wish we were as rich as Tony Start so we could buy whatever toys our kids crave… But let's face it: we're just Santa.