This is an archived article and the information in the article may be outdated. Please look at the time stamp on the story to see when it was last updated.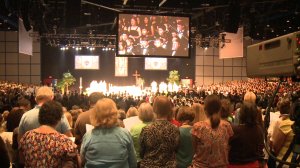 HOUSTON, TX – Higher learning takes on a whole new meaning in Houston this week. The Bayou City hosts the 'National Catholic Educational Association' at the George R. Brown.
The NCEA Convention and Expo is the largest private education association gathering in the nation with 8,000 members, and this year marks the first time the event sets foot in the Lone Star State.
The conference, which celebrates catholic education in the 59 archdiocese schools and 18,000 students throughout the world was ushered in with an opening mass, led by the Galveston-Houston Archdiocese' own Daniel Cardinal DiNardo.
The convention falls on the heels of the historic election of Pope Francis.
No doubt the papal conclave at the Vatican was a talking point for those who have moseyed on down to our neck of the woods to take part in this catholic celebration.