This is an archived article and the information in the article may be outdated. Please look at the time stamp on the story to see when it was last updated.
HOUSTON - Has Houston been cursed?! People are saying Governor Greg Abbott jinxed the Astros in game 4 against the Royals by sending out a premature congratulations tweet.
At 3:02 p.m. Monday, after the Astros had a huge 7th inning, taking a 6 to 2 lead, the governor's official twitter account posted this: "Congrats to the Astros on advancing to the ALCS! Hoping for an all Texas ALCS. ...Looking at you rangers." It was deleted a few moments later, just like the Astros lead. The 'Stros went on to lose 9 - 6 after falling apart in the 8th inning.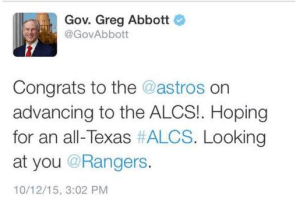 And the twitter-sphere responded by blaming the governor, using the hashtag #AbbottCurse. Posting comparisons to Harry Truman, who was prematurely reported to have lost the 1948 presidential election according to a Chicago Daily Tribune headline.
Governor Abbott's office is blaming the tweet on a staffer who got a little excited. And while visiting Houston, Abbott addressed the incident with a sense of humor, saying, "I don't really believe in jinxes, I know it's the players on the field who really matter. However, if jinxes really do work,I want to take this opportunity to say 'Congratulations Hillary.'" He also used his personal twitter account to calm people down, tweeting, "Hey Astros fans... unfollow Governor Abbott. Follow the real Greg Abbott right here."
If you do believe in curses, remember that Abbott called out the Rangers in that tweet too, and they went on to lose to the Bluejays.
Sounds like the governor should just keep his opinions to the political arena.