This is an archived article and the information in the article may be outdated. Please look at the time stamp on the story to see when it was last updated.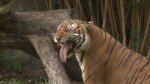 It's International Tiger Day and the big cats have a pretty nice set-up over at the Houston zoo.
The tigers weren't being very shy for the crowds, roaming their exhibit and even going for the occasional swim!
The tiger experts at the zoo brought the cats as close to the crowd as possible, doing a live demonstration to feed the tigers and show them off.
And let's not forget the reality about tigers, over the past one hundred years, the amount of tigers have dwindled down 97% leaving just over 3,000 tigers left in the wild; soon enough it could be possible that they'll only be in zoos.
So it makes sense to give tigers their own day to raise some awareness.