This is an archived article and the information in the article may be outdated. Please look at the time stamp on the story to see when it was last updated.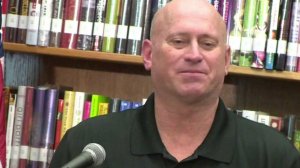 WASHINGTON, DC – June is LGBT Pride month. That's why students at Woodrow Wilson High School in Washington celebrated with a school event, the 2nd annual Pride Day Celebration. But the day's festivities took a surprising turn when the school's principal, Pete Cahall, took the stage visibly shaking. In front of a crowd of students, parents and city officials, Cahall came out of the closet.
"I just turned 50 a couple of weeks ago, and I'm tired of hiding," Cahall said during his speech.
Although stunned by the announcement, students couldn't have been happier.
"He's a role model for our school, and he's a role model for our community," one student said.
Cahall says he chose to come out at the public event because he wanted to truly be himself, while sending the same message to students.