This is an archived article and the information in the article may be outdated. Please look at the time stamp on the story to see when it was last updated.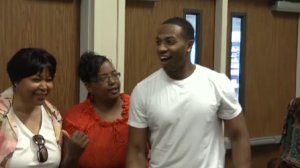 HUNTSVILLE, TX – When in Huntsville do as Justin Gilbert? Yep at least that's what it should be in this occasion.
Justin Gilbert, an 8th round NFL draft pick to the Cleveland Browns, and a bunch of friends and family brought the draft party to the party spot in Huntsville, the Texas Prison Museum.
Gilbert was back in Huntsville for the draft party, but when the big news came he was at Radio City Music Hall with his mother and grandmother.
So, why party at the Prison Museum? Gilbert has no criminal record, it's not about that it's just something you do in Huntsville, its a community thing, as original to Huntsville as Gilbert himself.
Shane Martin, an attendee says, "He's a grinder, a guy that works hard all the time, a great kid… he's a better kid than he is player and I mean that makes this outstanding."
He'll be going for it when he starts up mini camp at the dog pound in Cleveland later this may. For a town associated partially with incarceration, Justin Gilbert is a shooting star.