This is an archived article and the information in the article may be outdated. Please look at the time stamp on the story to see when it was last updated.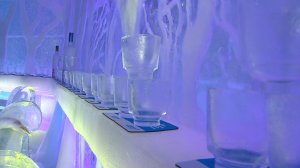 NEW YORK, NY – New York City has a hot new bar making headlines. It's actually really cool.
Minus 5 Ice Bar just opened at the Hilton in midtown Manhattan. The joint gets its name from the icy decor (chairs, tables, walls, you name it, are all made of ice), and the temperature inside is 23 degrees Fahrenheit!
New Yorkers reportedly love the new concept bar. They have had a few 90 degree days recently (cry us a river). Why the heck don't we have one of these places in hot as Hades Houston?!
Anyway, for $20, patrons get Eskimo-style gloves and a parka. Heat-emitting devices, like cell phones, and people like Ryan Gosling all have to stay in temperature proof lockers by the door.