This is an archived article and the information in the article may be outdated. Please look at the time stamp on the story to see when it was last updated.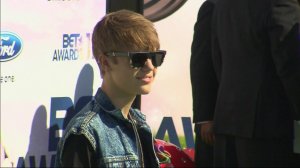 LOS ANGELES, CA – Let's be blunt. Justin Bieber's going to pot.
At least that's what it looks like in photos obtained by TMZ. They sure look like he's holding a joint. Of course, it could be a candy cigarette, or maybe he's holding some other guy's joint.
The Beeb's weekend tweet didn't settle things: 'everyday growing and learning. trying to be better. u get knocked down, u get up.'
Wow, that's heavy stuff, man.
But, it's been a busy time for the Beeb. He stopped in to visit a seven-year-old cancer patient who couldn't get to his weekend concert in Salt Lake City. And no, that joint wasn't medical marijuana he got from her. Shame on you for thinking that.
He's also been busy spreading Bieber Fever by agreeing to promote 'Bill-My-Parents', a pre-paid debit card.
Bieber will push the card to the 30 million or so people in his social media universe. And he'll be doing some financial literacy videos for the company.
Wonder if he'll mention how the card costs you four bucks a month just to carry it, and another buck and a half every time you use it at an ATM.
But hey, it's your parent's money, so who cares, right?