This is an archived article and the information in the article may be outdated. Please look at the time stamp on the story to see when it was last updated.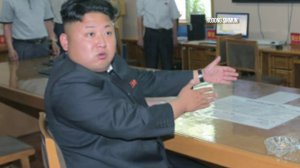 PYONGYANG, NORTH KOREA – Occasionally, all of us have an off-day at work; but when you're job puts you in the spotlight and you have an off-day everyone knows about it.
Meteorology is just about the only job where you can be wrong half of the time, and still be employed. Even in North Korea.
Back when Kim Jong-Il was alive, he made people believe that he controlled the weather based on his mood. Apparently, lightening did not strike twice in this family, because Lil Kim is in a bad mood over the fumbled forecasts he says he's been receiving recently.
According to the state run newspaper, Kim Jong-Un's been touring meteorological facilities complaining about inaccurate forecasts, and schooling those nerdy science-types on how this stuff really works.
Lil' Kim says he's focused on the potential economic impact of an "abnormal climatic phenomenon" and worries about protecting lives and property (no word on if Kim Jong-Un knows lives and property are two different things).
If North Koreans can weather Lil Kim's supreme rule they're probably strong enough to weather any weather.