This is an archived article and the information in the article may be outdated. Please look at the time stamp on the story to see when it was last updated.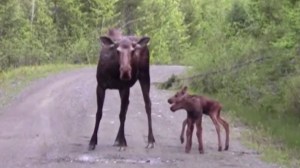 BRITISH COLUMBIA – A mother moose, in British Columbia, unleashes road rage to protect calves by ramming a truck trying to pass her.
Outdoor writer Bernie Barringer and a fellow bear hunter were headed back to camp when they came across the mama moose and her two calves.
For about five minutes the mean mama stared them down while blocking the road.
Finally they tried to drive around her — thinking their big truck would scare her off.
Think again…it caused the mama moose to road rage wildly! Check it out!