This is an archived article and the information in the article may be outdated. Please look at the time stamp on the story to see when it was last updated.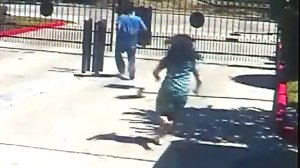 HOUSTON, TX – People sometimes might complain about big brother, but in this case it might help find a man who robbed a woman.
Houston police say the victim was at the Bank of America on Westheimer getting some cash. She tells police she noticed a suspicious van driving around the bank parking lot. It didn't faze her much and shortly after, she drove back to work at the Indonesia Consulate on Richmond.
When the woman pulled into work and opened the security gate, you can see the suspicious van from the bank drive by behind her. The woman pulls in and the you can see a black man enter the gate by foot. The man attacks the woman and makes off with her purse and the money she got from the bank.
Police believe the van the suspect was driving was either a Mazda MPV or Honda Odyssey.
If you have any information, call Houston Police.