This is an archived article and the information in the article may be outdated. Please look at the time stamp on the story to see when it was last updated.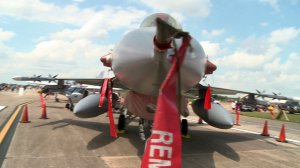 HOUSTON, TX – If you like muscle cars and old school airplanes, then the Aeros and Autos Show is for you.
"The vintage planes. World War II birds and just drag racing. This is a man's paradise," says Robert Cox.
This man's wonderland has been going for five years strong. There are all types of cars. Some are even head scratchers that require asking.
Richard Brooks who has car being showcased says, "Usually it's what is that but it's an old Volkswagen pick-up truck. Homemade."
You can see the big rides which can be the envy of anyone., or you can go small and cute. There's just about something for anyone big or small.
Leia England enjoyed the event saying, "I like the old cars. I'm a big muscle fan. I love the planes. We just got in one. That was awesome..And then the fact that you get to see everything and anything racing down the airstrip was ridiculous. That's awesome."
It's awesome that the proceeds from this event go to charity. The previous four years of the show, more than $100,000 has been raised to benefit United Services Organization and Texas Lions Camp.
"Next year, I'm bringing my motorcycle and car. Girls need to bring their swimsuits, OK. The sunburns are not fun. Yeah it's a little rough."
Chicks in swimsuits now as well…yep, truly a man's paradise.