This is an archived article and the information in the article may be outdated. Please look at the time stamp on the story to see when it was last updated.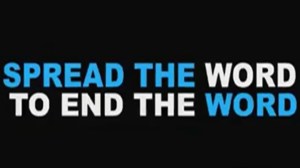 HOUSTON, TX – There are so many words you can use to describe Free Press Summer Fest.
Fun…harmonious…hot!
But there's one word that should never be used to describe someone or something again.
Using the word 'retard' or 'retarded' to describe someone with learning disabilities is as hurtful as the 'n-word'.
"There's a lot of other words that we say about people that we don't use anymore. It's time to do the same and retire those two words," said Mayor Annise Parker.
Mayor Parker, the Rise School of Houston and rapper Bun B are just a few of the big names helping 'Spread the Word to End the Word'.
"Everyone wants to be P.C. about this and P.C. about that, so let's cover everything, let`s cover every word that doesn't need to be used right now," said Bun B.
Lots of people signed the banner, taking the pledge to keep the R-word and other derogatory terms out of their mouths.
If you haven't yet, take the pledge online at r-word.org.
No matter what, everyone deserves respect — and that's one R-word we can all celebrate!