This is an archived article and the information in the article may be outdated. Please look at the time stamp on the story to see when it was last updated.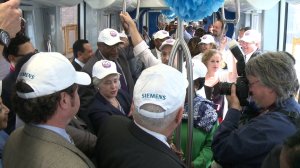 HOUSTON, TX – "Metro is moving in the right direction. And I'm so happy that all of you are out here to celebrate this 100 million riders," said Mayor Annise Parker.
MetroRail is celebrating 100 million boardings since it began in January 2004. Four years ahead of schedule, no less. 18 light rail vehicles have carried Houstonians over four million miles.
"It's a great help to us folks who don't have transportation," said passenger Elizabeth Ruffin.
Not to toot their own horn or anything.
"We've got the hardest working light rail trains in the United States,' said Metro chairman Gilbert Garcia. 'These trains are so good, they were designed for Houston, but they're now running in San Diego, Salt Lake City, and Charlotte."
So good, in fact, they're adding more. Metro is rolling out 19 Siemens rail cars, two of which reported for duty today. The Red Line is also expanding, and three new lines are being added.
Looks like Metro isn't losing steam anytime soon.