This is an archived article and the information in the article may be outdated. Please look at the time stamp on the story to see when it was last updated.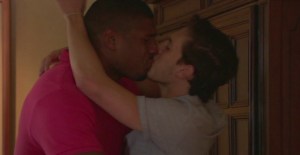 HOUSTON, TX – Michael Sam rams his way into St. Louis making history as the first openly gay player ever picked in the NFL draft. Problem is, current and former NFL players are taking their protest to social media. Not necessarily about Sam getting drafted, but the emotional display of affection immediately following.
If you didn't see it, wet your lips on this little taste. Two men kissing on national television, we've seen it many times. Why should this be any different?
Former Houston Texan Derrick Ward drafts this tweet about that now infamous lip lock. "I'm sorry but that Michael Sam is no bueno for doing that on national tv. I'm fine with it being a new day in age but for him to do that on national tv is disgusting. Gay or not."
Derrick and his family have since received death threats. Miami Dolphins Safety Don Jones recently apologized and deleted his tweets that said, "Horrible" and "OMG" when addressing the kiss.
Jones got slapped with a fine and is banned from team activities until he under goes sensitivity training. Stop trying to rain on Sam's parade and just be happy for the guy already.