This is an archived article and the information in the article may be outdated. Please look at the time stamp on the story to see when it was last updated.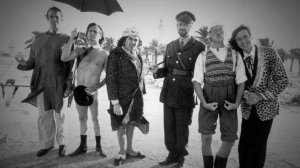 LONDON, ENGLAND – The Holy Grail for die-hard Monty Python fans might be becoming a reality.
A series of tweets from the surviving members of the popular British comedy troupe seem to suggest a reunion is in the works. Which would possibly mark the first time social media has actually been excited about receiving spam spam spam!
The fab five are John Cleese, Terry Jones, Terry Gilliam, Eric Idle and Michael Palin. The sixth "Monty" member, Graham Chapman died of cancer in 1989. And even though death has never stopped the Python boys before, hence the "Dead Parrot Skit", it's been three decades since they've worked together as a group.
A future news conference by the funny men will say which form their reunion will take, whether a live performance, TV special or movie. So, everything old is new again. Which is good, because all of the silly seniors are in their 70's now and if they're still funny after all these years that would truly be an amazing feat!