This is an archived article and the information in the article may be outdated. Please look at the time stamp on the story to see when it was last updated.
HOUSTON -  This Sunday is the day to honor that special woman in your life - mom.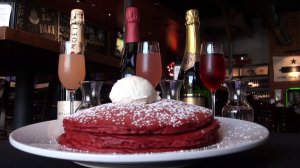 If you'd like to make her brunch then the video above has helpful hints on how to make the perfect omelet, but if you are a disaster in the kitchen, then check out MAX's Wine Dive on Fairview in Montrose.
Executive chef Shay Prigmore, 27, would love to make you his signature red velvet pancakes (The RVP), Crawfish Benedict, or the The Fried Egg Sandwich.
MAX's also makes a mean mimosa. Choose from pomegranate, watermelon, grapefruit or orange juice.
To see their Mother's Day menu, head to their Facebook page.