This is an archived article and the information in the article may be outdated. Please look at the time stamp on the story to see when it was last updated.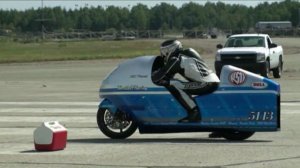 LIMESTONE, ME – It was an attempt at another world record, but things went terribly wrong.
Over the weekend Bill Warner, who's gotten conventional motorcycles to 311 miles per hour, was at it again. This time, he wanted to break a speed record on just one mile of track; but he never made it to the finish.
After being clocked at 287 miles per hour, Warner lost control and veered to the right. Witnesses say he was launched 40 feet into the air, and 100 yards down the track. He left the course conscious, but was pronounced dead within the hour.