This is an archived article and the information in the article may be outdated. Please look at the time stamp on the story to see when it was last updated.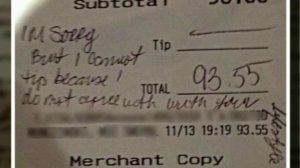 SOMERSET COUNTY, NJ – Tipping a waitress is purely voluntary, but it's the nice thing to do, especially if you get great service.
There was nothing wrong with the service one family got at a New Jersey restaurant, but they thought there was a big problem with their waitress.
Dayna Morales says she knew there was going to be trouble from the moment she introduced herself. Morales says she said hello, told the family her name and that she'd be serving them. That's when the mom looked at her and said, "Oh, I thought you were going to say your name was Dan."
It's no secret for Dayna, she's gay. But she was offended and mad at the mom's comments. But even after the comment, Dayna still served them. When it came time to pay the $93 bill, the family paid but didn't leave a tip. Instead they wrote a message for Dayna on the receipt saying they couldn't tip her because they didn't agree with her lifestyle.
Dayna kept the note and shared it on Facebook and a few blogs. She's gotten a lot of praise and support.
The restaurant says it can't share the family's name because that information is private, but Dayne says if she ever sees the family again, she wouldn't say anything because she doesn't respond to ignorance.