This is an archived article and the information in the article may be outdated. Please look at the time stamp on the story to see when it was last updated.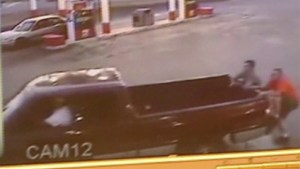 OKLAHOMA CITY, OK – It's every girl's dream to be given away by her dad on her wedding day, but that wasn't James Littrell's dream, and it turned into a nightmare for the groom-to-be.
Christian Leatherwood says when his girlfriend's dad found out about the engagement, he was anything but approving, and was confronted by him at a gas station. Christian's friend, Victory Nelson, along with security cameras, saw the whole thing go down. Scared with what might happen, Victory called his uncle, who's a police officer, to report James. That's when James jumped into his truck, and a quick-thinking Christian ran up to it to try and snap a picture of James' plates. That's when things went from bad to worse.
James put his truck into reverse and slammed into Christian. Both Christian and Victory held onto the truck as James took off. Victory jumped off as the truck was moving. Christian had no choice but to lay in the bed of the truck. When James stopped at a red light, Christian tried to get out of the truck. That's when James put the pedal to the metal, causing Christian to fall out of the truck.
It wasn't long after James sped away that police caught up to him and arrested him. He was charged with assault with a deadly weapon.
We think it's safe to assume James wedding invitation might get "lost in the mail," eh?