This is an archived article and the information in the article may be outdated. Please look at the time stamp on the story to see when it was last updated.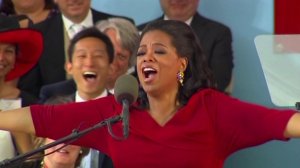 CAMBRIDGE, MA – For most the college commencement speech is about as interesting as a 3 hour lecture on U.S History. That is, unless you're in the Ivy League.
Yep, the 2013 Harvard grads got some words of wisdom from the queen of daytime television, Oprah Winfrey:
"My one hope today is that I can be a source of some inspiration."
Inspirational for sure, but she's not the only high profile speaker in 2013.
Bill Clinton spoke at both Howard University and University of Central Florida, and the Dalai Lama dropped some knowledge on the grads at Tulane.
Great, good for them. But what about you? Who would you have speak at your commencement?