This is an archived article and the information in the article may be outdated. Please look at the time stamp on the story to see when it was last updated.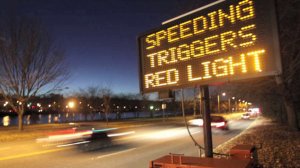 PHILADELPHIA, PA – It's time for another good idea? Or bad idea?
The city of Philadelphia installed new red light sensors as part of a new pilot program to slow down speeders. Only it's not exactly what you're thinking.
At Kelly Drive near Fountain Green Drive in Philly, the speed limit is 35 mph. However, city research shows drivers are traveling at an average 55 mph.
Officials decided to install three sensors, placed 6 feet apart into each lane, and heading in both north and south directions. As a car passes over the sensors an average speed will be recorded. If the vehicle's speeding, the traffic light ahead will turn red.
Although the exact location of the sensors isn't disclosed, officials say they're positioned to give drivers ample time to brake for the upcoming red light.
It's too early to tell if motorists are actually slowing down or not. The good news; they're not issuing any tickets — yet.