This is an archived article and the information in the article may be outdated. Please look at the time stamp on the story to see when it was last updated.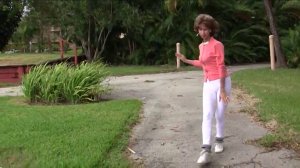 CORAL SPRINGS, FL – Move over treadmill dancer! A new fitness fad has gone viral: Prancercise!
Joanna Rohrback's ankle-weight-bearing street shimmy (that you really need to see to appreciate) has gobbled up some five million YouTube views, practically overnight! The spunky prancer describes the routine as "a springy, rhythmic way of moving forward, similar to a horse's gait and is ideally induced by elation."
Prancercise first trotted into the world back in the eighties, and Rohrback even has a book.